Hi there! :)
Christmas is almost here and today I'd love to share with you a creative way to use the newest ModaScrap Covering Papers and some other amazing products from the latest Christmas release to wrap and decorate your presents!
First of all, I wrapped my packages with the gorgeous Wanderlust and Save the Bees Covering Papers and used natural twine to tie the bows on them.
To embellish the larger box I created a paper flower, using the Diamond Tags set for the petals and the Christmas Greenery set for the leaves. I die-cut 4 petals out of Vellum Hexagons Holographics, 4 out of one of the gorgeous patterned paper sheets from the Wanderlust Paper Pack and 8 out of white card stock, I slightly curled them on the edges and connected all the pieces together using a silver round brad.
I also added a small round tag to complete the look of this present (cut with the Dashing Circles set) with a beautiful Christmas sentiment from the Time to Celebrate stamp set stamped on it.
For the smaller gifts, I die-cut a bunch of squares out of vellum and patterned paper, using the Dashing Squares set, and mounted them on the top of my boxes, overlapping them. Then, I added two tags as embellishment: one die-cut with the Christmas Charms set and the other with the same die used for the paper flower (from the Diamond Tags set).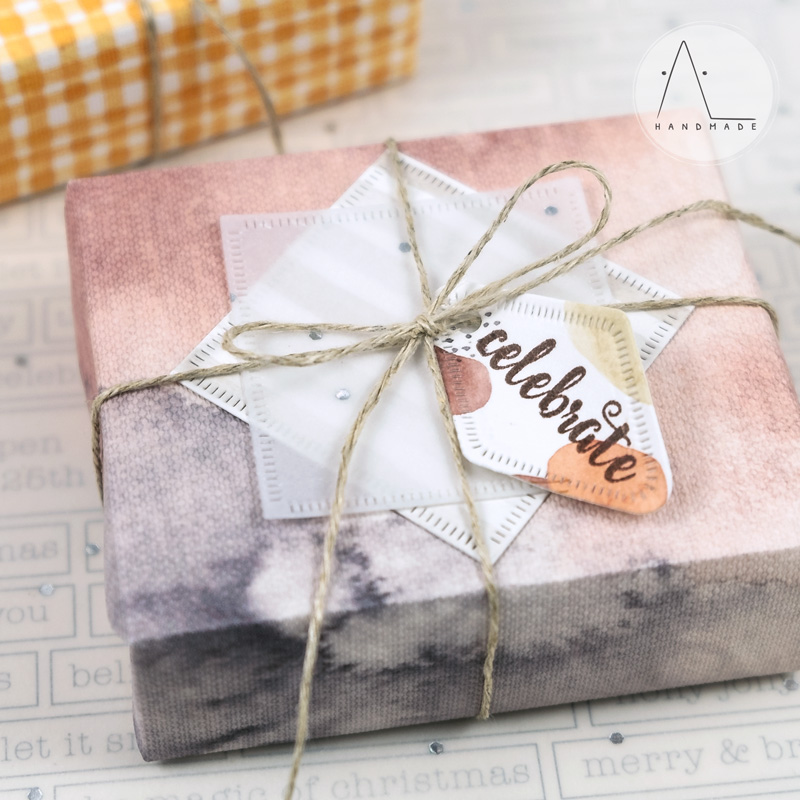 Hope you like them!
Thank you so much for stopping by, have a nice day!
COMMENTS
Your comments are really appreciated, please visit my IG account (@al_handmade) to share your thoughts on this projects.